Play Your Best at Best Choice Field House
Best Choice Fieldhouse offers a variety of sports and recreation programs for all ages and skill levels. Our 53,000 indoor square foot facility features six regulation size hardwood courts, LED scoreboards, ample bleacher seating for spectators, concessions, and convenient on-site parking. 
As a prime destination for youth sporting events, adult recreation programming, and community activities, we proudly serve Fishers, Indiana, and the greater Indianapolis area. 
Minutes north of Indianapolis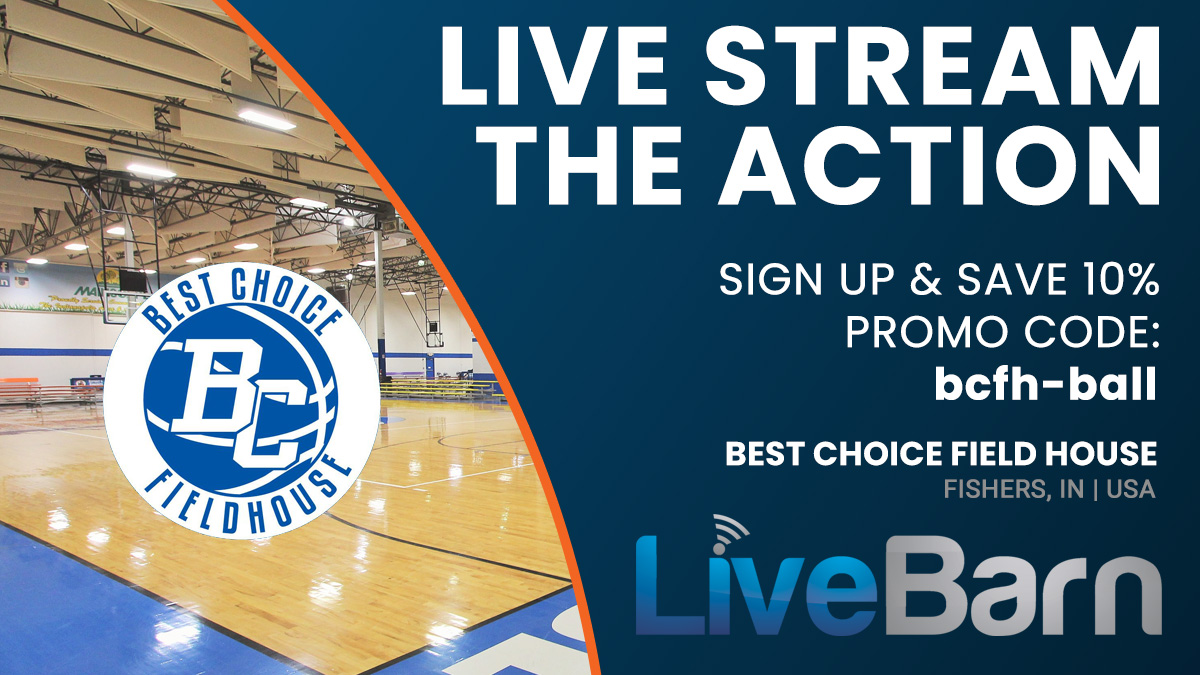 Watch Live
Best Choice Fieldhouse is a LiveBarn Venue.  If you can't make it to the court, you can still stay connected by watching all events Live and On Demand.
10% DISCOUNT - PROMO CODE: bcfh-ball
About Live Barn
LiveBarn is a subscription service that allows you to watch events Live or On Demand for 30 days. Your subscription allows you to watch streams from any LiveBarn-installed venue across the US & Canada.
Save and share 30-second highlights
Download entire games/practices
Tag highlights while watching live, in-venue
Existing subscribers can update their profile to our venue's promo code.
For more information, visit livebarn.com.  Download the LiveBarn iOS App or the LiveBarn Android App for easiest mobile viewing - or the LiveBarn tvOS on AppleTV for home theatre viewing.
Instructions
INSTRUCTIONS FOR VIEWING, SHARING OR DOWNLOADING GAMES:
Create a LiveBarn account using the PROMO CODE: bcfh-ball
Search for and select your venue.
Select Live (for Live) or On Demand (for past games or to share/download clips) and select date and time.
TO SHARE: Pause video at time you would like 30-second clip to STOP, select social media or email, and share provided link
TO DOWNLOAD: Pause video, select download, press both download buttons and 30-minute video will download to your computer (for full game select multiple 30 minute sections)
**Premium account for downloading, standard account for sharing**